Smart showers give you the ultimate control over your shower experience. Depending on the model, you can enjoy digital temperature control, multiple outlet valve control, Wi-Fi integration and even voice control. Some systems even allows you to create multiple users so everyone can have their preferred temperature level programmed directly into the shower system.
No matter what features you're looking for, we've included a wide range of options to help you decide which would be right for your home. Take a look at our picks for the best digital shower control systems on the market today.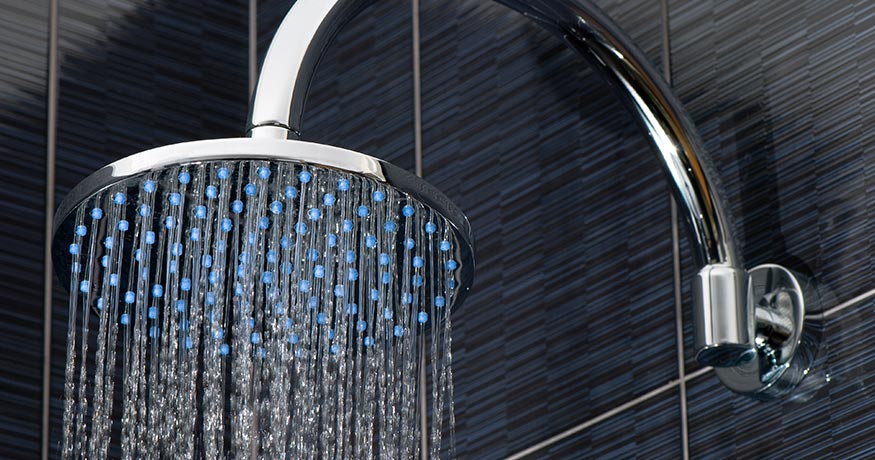 Our Top Pick
Moen Matte Black Shower Control Panel | TS3304BL
U by Moen TS3304BL Smart Home Connected 4-Outlet Thermostatic Digital Shower Controller is our top pick for several reasons.
Not only does it offer the precision of digital temperature control, but it offers features, customization, and presets that no other unit can offer.
This is the perfect controller to provide automation and control over your shower, using either the panel, the app, or your voice.

Pricing last updated on Fri, 27 Jan 2023 04:09:33 +0000 / affiliate links –
Details
Digital Shower Control System REviews
1. U by Moen TS3304BL Smart Home Connected 4-Outlet Thermostatic Digital Shower Controller
What We Liked
Wi-Fi Connectivity and App Integration
12 Different Personalization Options
Digital Control Over 4 Outlets
Voice Control Enabled
Some Things to Consider
Valve & Extra Batteries Are Sold Separately
With Wi-Fi connectivity and integration with the iOS or Android app, this shower controller is extremely simple to set up according to your showering preferences. Since Moen regularly pushes system updates, you don't have to worry if your controller is still up to date.
The controller allows you to save six presets directly via the controller's soft-touch button interface. You can even access up to 22 different personalization option if you download the U by Moen app. This way you can create the perfect shower through a combination of temperature and outlet control, and take showering to the next level.
The digital thermostatic control extends to up to four outlets. Outlets can run to showerheads, rain panels, even body spray or jet tiles. Whether it's an early morning wake-up shower or a late night shower, you can finally take a bath tailored-fit to your needs.
Compatible with Alexa, Google Assistant, Siri & HomeKit, and U by Moen, so you can utilize the IoT to have your shower or bath set exactly how you want it so that it is ready when you are. Handy when bathing small children or as an accessibility aid, you can even change temperatures by simply telling your virtual assistant to adjust the temperature up or down by whatever level you see fit.
Important Points:
Valve Sold Separately
The valve that physically controls the water is sold separately. This digital controller will not be able to fully operate without it. The 4 outlet valve will cost approximately $1,500.
Battery Backup Sold Separately
A 6-D powered battery backup allows operation of the controller for between 48 and 72 hours of power loss. It is mounted on the studs, so it will usually necessitate some sort of access panel to be planned for the eventual need to change the batteries.
2. Kohler K-527-7 Dtv Prompt Digital Shower Interface
What We Liked
Single Or Dual Outlet Operation
Countdown Mode
Warm-Up Mode
Multiple Interface Compatible
Some Things to Consider
Additional $670 for the Valve
The ability to operate either one or two outlets allows for versatile bathing experiences. Control whether the interface uses the shower or bath outlet, or both simultaneously. The integrated diverter operates with the touch of a button. Great for using multiple outlet types like a rain head and a body spray tile, or a showerhead and a jet, you will have maximum flexibility.
The countdown mode feature lets you bathe with a mind towards conservation. Manage both water use and bathing time by setting a countdown. One of the downsides of using a luxurious smart shower is the amount of water it can use, the countdown mode can help you mitigate that by offering a way to gently remind you that you should be wrapping up.
The warm-up mode will ready your shower and bring it up to temperature, then pauses the water flow when ready, and notifies you that your shower is ready. This not only saves you time by getting your shower ready in your absence, but it also saves water by not simply letting it run while you are not using it.
Easily add a second interface, and link them together for added convenience and flexibility. Ideal for large luxury showers, or mounting an interface in another area of the bathroom to allow shower control away from the shower. Perfect if there is a location in which you may want to have access to your shower control to ready your shower before you arrive
Important Points
Valve Sold Separately
You will need to purchase the Dtv Digital Two-Port Thermostatic Valve in order to use this product effectively. This will require an additional cost of over $670.
3. Moen TS3415 IO Digital Shower Control
What We Liked
Dial-Controlled Digital Temperature Management
Dial-Controlled Digital Pressure Control
Four Programmable Presets
Metal Construction
Some Things to Consider
ioDIGITAL Valve is Sold Separately
No Digital Display
With simple to use dial controls, the Moen TS3415 IO Digital Shower Control could not be easier to use. Operate both the temperature of your water outlet. No need to learn how to use these beautifully intuitive controls, as they use traditional temperature gradient markings and LED lights.
Similarly to the temperature management, the pressure provided to the outlet can be simply managed with a dial control and the LED lights. From a gentle trickle to a full outlet pressure, you can easily set the best pressure level. .
Create four separate preset combinations of temperature and pressure to suit you or your family's needs. You don't need to worry about finding that perfect ratio ever again. Start the shower, hit your preset, and in moments your shower will be perfectly tailored to your mood.
Constructed from metal, the unit is more robust and solidly crafted than plastic models. No worries about breakage or flimsy construction, the chrome housing will stand up to years of use. The solid design also makes confident installation a breeze.
Important Points
Valve Sold Separately
The ioDIGITAL valve module is sold separately and must be obtained to use the controller.
No Digital Read Out
Where other controllers have screens to set and monitor temperature, this unit relies on the traditional red/blue gradient. You can easily set the temperature and maintain it by feel, but you are unable to set a specific temperature or make degree-specific changes.
4. Kohler 99693-P-NA DTV+ Digital Shower Interface
What We Liked
All Digital Interface
Themed Hydrotherapy Modes
Kohler Amplifier and SoundTile Compatible
Steam Generator and Lighting Element Compatible
The large fully digital interface is a full color, easy to read, and completely customizable touchscreen. The DTV+ interface lets you combine every element of your shower to use water, steam, sound, and light like you never thought possible. Completely rid your shower of levers, knobs, and dials. The sleek and high-tech appearance is the perfect finishing touch for your custom smart shower setup.
Pamper yourself with a preprogrammed spa experienced that can be centered around themes of Energy, Well-Being, or Relaxation. Additional presets allow you to edit your own programs consisting of water, sound, steam, and light. You can create complex combinations to suit your every mood or occasion. Whether you are just waking up, coming home from the gym, coming in from the yard, or washing away the worries of the workweek, there is a hydrotherapy combination for it.
Treat yourself to aural therapy while you enjoy your personal shower spa experience, by linking the DTV+ unit with your Kohler Amplifier and SoundTile speakers. You can introduce your own playlists for your presets, to get yourself pumped in the morning, or help your mind and body unwind in the evenings after a full day, or any variation you can imagine.
Add new dimensions to your home spa experience by connecting your DTV+ unit to a steam adapter and generator, or even lighting elements. You can turn your shower into a relaxing sauna or enjoy soft ambient lighting.
Important Points
Premium Price Tag
While the Kohler 99693-P-NA DTV+ Digital Shower Interface is elegant, the price is also the highest out of all the models we evaluated, by nearly double. There is certainly something to be said for getting what you pay for, but this model seems to have priced itself out of practicality.
5. Moen SA340BL ioDIGITAL Remote
What We Liked
30 Foot Remote Range
Low Battery Indicator
LED Status Indicators
Automatic Temperature Control
Some Things to Consider
Needs a compatible valve and controller installed
Complex sync process
Enjoy the convenience of controlling your ioDIGITAL shower controller from up to 30 feet away. Not only do you not need to be near the shower to turn it on and have it start getting ready for you, but you do not even need to be in the bathroom. The simple one-button operation will let you turn your shower on at a moment's notice. Even despite its portability, the remote can also be mounted on the wall for convenience and simple remote operation.
The LED indicators will show a low battery condition, eliminating having to guess if the batteries are good or when they are starting to drain enough to impact functionality. This is also a handy troubleshooting feature if you are having issues with operation, as it can instantly eliminate the batteries as a possible cause.
The easy to read LED indicators show exactly what temperature range the shower has achieved. You will not have to guess if the shower is ready after you have turned it on, as each LED will light in a sequence showing the current temperature range. The indicators will even let the user know if the hot water is running low and the temperature cannot be maintained.
Even if the water temperature fluctuates, the Moen SA340BL ioDIGITAL Remote will continually adjust the temperature with the synced controller to provide a steady and consistent temperature.
Important Points
Only A Remote For Compatible Controllers
In order to properly use this, you will need a compatible valve and controller already installed. You will need to follow a sync process to integrate this remote with your controller and thermostatic valve setup.
What Are Digital Showers?
Digital showers contain a digital thermostatic valve within the shower, allowing automated control over your shower's temperature – you'll get the perfect shower every time. Beyond the internal thermostatic valve, there is a control panel that can be placed within the shower or in another area of your bathroom. The control unit communicates with the thermostat in your shower either wirelessly or through wires and cables.
On the more high-tech end of things, you've got digital smart showers that have a ton of features. Of course, they have a digital thermostat, but they may also have a remote, voice control, programmable favorites, Wi-Fi connectivity, and Bluetooth. Some can even integrate with other connected devices and appliances to provide multi-sensory experiences. With all of these features, you can customize the settings and even have Alexa start the shower for you so that it's at the perfect temperature by the time you're ready to hop in and take your shower.
One of the best things about spending the night in a nice hotel is taking a shower in their amazing spa-like showers. When you combine a digital shower with a really nice shower surround and showerhead, you're on your way to having the best shower of your life right in your own home. If you want to change the way you shower, upgrading your current setup will make a huge difference in how you bathe from now on.
Digital Shower Controller Buying Guide
When it comes to picking the best components to have installed in your home, there are several things that will impact the quality of your shower.
Is it Compatible?
One of the best things about digital shower systems is that they are compatible with any heating system, meaning you should be able to have one installed with the hot water heater you currently have.
Another thing to consider is how it will need to be installed. If you need to take apart your bathroom, then you may need to pass on this style of shower system. However, if you are able to have the remodeling done, then there isn't really a reason why you would need to pass on one of these great shower setups.
Most controllers are only compatible with valves of the same brand, and often, the same product line. The type of controller you need will largely be determined by what valve you have or are having installed. For example, Moen controllers will not control a Kohler valve, and will only function properly when used with the corresponding ioDIGITAL or U by Moen valve, as a controller that works with Moen's ioDIGITAL line will not be compatible with the U by Moen line.
Professional Installation
One of the biggest things that deter homeowners from installing digital shower systems in their homes is the complicated nature of the installation. While a more complicated system may necessitate the assistance of a professional, there are plenty of digital systems that are easy enough for many people to install with minimal issues.
Whether or not you need a professional to install your new thermostat depends on a few things. First, how much experience do you have with plumbing and electrical work? If you are inexperienced and lack the right skills, it would be best to hire a professional. If you have some experience or are a quick learner, you may be able to find some instructions online that can help you install your new digital shower control system.
One of the main hurdles with installing a digital shower controller is having the all-important thermostatic valve installed. While it is generally possible for most people to install the controllers on their own, installing the valve will need plumbing and electrical experience, along with the knowledge of how to get to the plumbing pipes, and patch the hole afterward.
What Other Parts Will You Need?
Typically, a smart shower system has everything you need to install it, aside from tools. In addition to the hardware that is included, you may need a few more things:
Tape measurer so you can make sure to set things up in the right places
Plumbers' tape, if you are replacing your shower head as well
Towels for potential leaks
Silicone caulking
Safety glasses
Screwdriver
Power drill
Level
Pliers
Connectivity
Digital shower systems are great to have in your home because they make showering more convenient! You can control it through using your phone or their intuitive control panels – no need to play around with the hot and cold knobs to get the perfect temperature ever again. It even allows you to have different showering experiences too, from light and calming to a heavy massaging shower.
One of the best things about these smart shower systems is that they have different connectivity options:
Wires: If you have a digital shower control panel in your bathroom, then the system is most likely connected with cords and wires that are hidden within your walls. Typically, units that are not smart-featured or connected devices will simply plug into the valve they work with. While this can simplify installation and lower the overall cost, it comes with a more limited feature set.
Bluetooth: Many digital shower systems have Bluetooth connectivity available. This allows you to use a remote and even link your phone and shower system together so you can control the system within close proximity. The downside to having only Bluetooth connectivity is that it has a limited range of about 20 feet in the open air, and less when traveling through walls and floors. This is often seen as a middle ground of connectivity between wired and WiFi.
Wi-Fi: Digital shower systems that use Wi-Fi are really cool because they can be controlled with other smart devices like Alexa, Google Assistant, and Apple HomeKit. If you have a smart digital shower set up, you can tell Alexa to start your favorite saved shower setting as you're pulling into your driveway and the water will be perfect for you by the time you get to your bathroom. The range is infinite, provided your home network is stable and functioning. With a WiFi-enabled shower controller, you can even connect different compatible devices for a full sensory experience in your bathroom.
FAQ
Can I Install My Own Digital Shower?
Digital shower control system installation is a task that many people find too difficult, especially without prior plumbing or electrical experience. If you do have experience in these areas, then you should be able to install the digital shower yourself. If you do not, it would be best to reach out to a local professional to handle the installation for you.
The installation of the controller itself is more or less just plugging it in and mounting it to the wall. Prior to that, however, your shower will need to be wired to be able to handle the digital system. Once completed, you will be able to plug in your controller and install any new fixtures such as a bathtub faucet or showerhead yourself.
Learn More: The Best Touchless Kitchen Faucets
What Is Involved With Installing A Digital Shower Controller?
Installing a digital shower controller does have several steps involved but with a bit of time and patience, anyone can install one of these shower systems in their home.
Gather your supplies. You will need all of the hardware that came with your shower control system kit, as well as any fixtures you have decided to replace as well. In addition to those, you will also need safety goggles, a screwdriver, a power drill, pliers, and silicone caulking.
Once you have all of your tools and hardware, turn off the water to your home to ensure you don't end up with any flooding or spraying. Then, turn on a faucet on the lowest level of your home to ensure all water has drained from the plumbing system.
Now, you will need to remove the data cable retainer. Be sure you do not let it fall back into the wall. You may want to use some masking tape or painters' tape to attach it to the wall temporarily.
Next, you will want to check to see if the mounting bracket is level. If so, take your pencil and mark where you will be drilling the holes. Set the bracket in a safe spot.
Using a 3/16" drill bit, drill both marked holes.
Along the groove on the back of the mounting bracket, apply a bead of your silicone caulking.
Pull the data cable through the hole in the bracket and adhere the bracket to the wall.
Using the screws included in the kit, secure the mounting bracket and tighten with the Philips screwdriver. Note: the screw head should be slightly recessed or flush with the bracket. Do not overtighten.
Double-check that your mounting bracket is still level after being installed. Make any needed adjustments now.
Remove any excess silicone caulk.
Remove the protective cap from the data cable and attach the controller.
After checking that the connection is secure, feed the cable back through the hole in the mounting bracket.
Attach the controller to the mounting bracket and push steadily to make sure it is flush with the wall.
After installing your control system, all you have to do next is set up and program the system, and you're ready to take a shower!
How Does A Digital Shower Work?
A digital shower is a system of two components working in harmony. These components are the thermostatic valve and the shower controller. The valve will control the ratio of hot water and cold water, the pressure, and which outlets are provided with water.
The thermostatic valve is installed inline with the water supply, between the shutoff and the outlets. Often when a thermostatic valve is installed, they will be installed in tandem with a GFCI outlet inside the wall, attached to a stud. The valve needs to be powered to operate the water supply, and some may have an optional battery backup in the event of a power outage. The valve takes instructions from the controller as to the request of the user.
The shower controller is the portion of your digital shower that you see and interface with. They can be simple in form and function, using a minimum of dials or buttons to turn on the water and make adjustments. Others can be very complex and detailed in operation, even able to be linked to other appliances like steam adapters and generators, lights, and even in-shower speakers and media players. Many controllers will offer programmable presets so that you can have showers tailored to your tastes, or perhaps the members of the family each have their own preset for ease of use.
Do Digital Showers Need A Pump?
Great news, digital showers do not need any special pump! The list of equipment that you will need to have a digital shower is a water supply, either a conventional tank-based or tankless water heater, a shower controller, and the corresponding valve. For outlets, you can use any type of either conventional or smart showerheads, rain panels, or body spray tiles. Smart-featured or connected outlet devices may increase the amount of customization you can do, but regular shower heads will work as well.
Will A Digital Shower Controller Work With My Current Showerhead?
Coming across a showerhead you love can be a beautiful thing. The water pressure is perfect, the angle is just right, and it is the perfect height for you to shower comfortably. If you are hesitant about upgrading to a digital system because you don't want to lose the showerhead you currently have, you are in luck! In most cases, you can certainly mix and match the components of your shower, using one type of digital control system with a totally different showerhead.
When shopping around for the parts that you will use in your shower, feel free to shop around for the style of showerhead you want because chances are, you should be able to use it, as long as you can attach it to the plumbing in your bathroom. Luckily, most shower arms and plumbing have universally sized threads.
Conclusion
All in all, digital shower control systems are a fantastic option for every home. Whether you simply have a control panel or you have a system with all of the bells and whistles, a new digital shower control system will change the way you shower.
If you have a bathroom that many family members share, look into a smart system that has the option to save multiple favorite temperature settings and spray patterns. This way everyone will be able to enjoy their ideal shower at the touch of a button.
There are even options that you can link with Alexa so you can control your shower from anywhere. Whether you want to get a head start on heating up the water as you travel from your kitchen to your bathroom or you plan on getting the water started for your kids, purchasing and installing one of the best digital shower control systems will change how you shower.
Links to affiliate products help us by earning commission on sales, without costing you a cent!
More Details