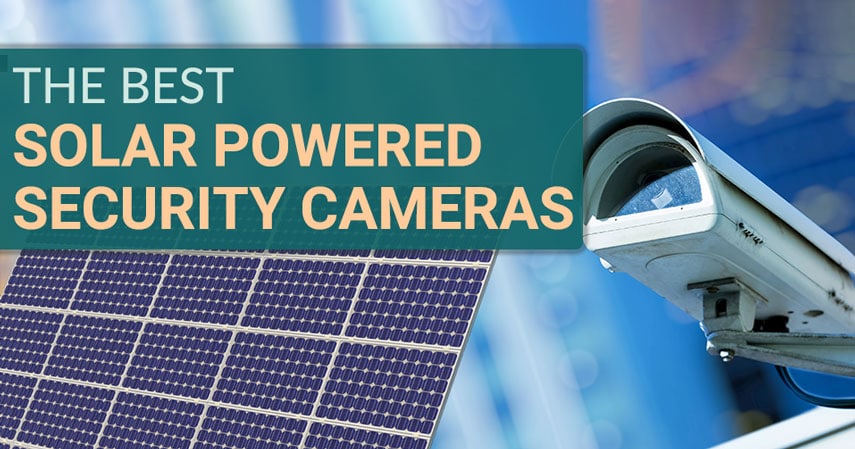 If you or anyone you know has ever had a break-in, a package stolen, or property vandalized, you know just how unnerving, violating, and invasive it can feel. After all, your home is supposed to be your safe space – but it doesn't feel so safe afterwards!
No matter where you live, it's always important to take home security seriously. From using peephole cameras to catch package thieves to external cameras to bust burglars and everything in between, it never hurts to keep an eye on your property.
However, full surveillance systems can be expensive and inconvenient to install due to the wiring required for them to work. When it comes to finding a versatile, cost-effective method for watching over your property or entryways, solar powered security cameras are a great option to consider.
Whether you want to upgrade your security or just keep an eye out for people knocking on your door, keep reading to learn if a solar powered cctv system is right for you & how to find the best solar powered security camera for you.
Our Top Pick
The best solar powered security camera should have a great balance of features, simplicity, and value. Of our list, the model that best fits these criteria is the NexTrend Outdoor Solar Powered Security Camera.
This high-res, versatile security camera offers exceptional image quality with full 1920 x 1080 support that includes black & white night vision as well as 32 feet of motion sensing.
This camera has wireless compatibility that can sync with your phone to alert you of any movement and provide a live feed with 2-way audio directly to your phone.
It also features a large 6600mAh battery capacity and a solid charge rate so that it can be self-sufficient in most sunlight situations. Featuring an affordable price & 1-year warranty, confidence in your purchase is the icing on the cake that makes the NexTrend Outdoor Solar Powered Security Camera our top pick.
When to Use solar powered CCTV
Having an extra set of eyes lying around never hurts. With surveillance technology advancing so quickly in recent years, it's never been easier to keep an eye on your home. Whether you're considering adding a security camera for convenience or for safety, solar powered options are a convenient & worthwhile investment to consider.
Affordability
When compared to traditional home security systems that are wired to your home, wireless solar security cameras are often cheaper. This is likely because the system is incredibly simple (usually just a camera, mounting system, and solar panel attachment), so it can be installed yourself which saves on installation fees. You'll also be able to avoid activation fees and monthly monitoring services that you'd have to pay to a company on top of the hardware you're already buying.
Additionally, because solar power is free you'll avoid paying for electricity to power your setup. Running 24/7, this can save you a solid amount of money on its own depending on where you live.
Works Without Cabling or Power Connections
Security camera surveillance isn't limited just to entryways and your yard – those with farms, sheds, or greenhouses also need protection from burglary & trespassing. With traditional home security systems, you'll need to run cabling or ensure you have a power source to keep the cameras on. However, with solar security cameras you simply need to connect the solar panel to the camera and point it towards the sun. As long as there is sun nearby, you can keep an eye on that area.
Portable/Temporary Setup – Can Be Moved
Looking for flexibility with your security system? If you get a system installed, it'll have to stay in place for most of the foreseeable future. For those who are mobile people, you simply won't get the most out of a stationary security camera setup – you need one that can move with you.
With how simple setup is, a portable solar security camera can be moved and reinstalled just about anywhere with sun. You'll simply need to unmount it from where it currently sits and reinstall it onto the new location. Whether that's a new home, your boat, or anywhere else, you'll be able to take your security with you.
Provides Natural, Environmentally-Friendly Energy
In addition to saving you money on electricity, these solar panel-equipped cameras are also incredibly environmentally friend. Solar energy is entirely renewable and creates no pollution in its use, so you'll be helping to preserve the planet while enjoying the other benefits a solar powered WiFi security camera offers.
What To Consider When Buying Solar Security Cameras
Can the Solar Panel Produce Enough Electricity?
Solar panels are a great way to power things without cables, but the downside of relying on solar power entirely is that solar power can be finnicky.
Solar panels are not the most efficient form of powering something – after all, only about 15% of energy is converted with most panels. Additionally, you need actual sun in order for it to work properly – if you don't have sun due to indoor use or nighttime, you'll struggle to maintain the energy needed for operation & charging the battery.
With that said, it makes sense to be concerned about whether a solar panel provides enough juice. Thankfully, solar energy can still come through if it's rainy or cloudy, so outdoor setups will likely work just fine. However, indoors are almost certainly a no!
For the best results, you need to make the most of your sunshine to ensure you get enough power for operation plus extra to store in the battery for the night. To accomplish this, you'll want to set your panel up for maximum absorption so that you can maximize your juice during the day. A 45-degree angle that faces the sun allows you to maximize on the sun's solar energy,
Battery Size
Unsurprisingly, your outdoor security camera needs to have power to work properly. While using power from the sun to work is effective during the day, it eventually runs out when the sun goes down. If you have no way to store extra power, you're going to be left in the dark – literally.
Thankfully, solar powered cameras often come with a rechargeable battery (or 2) as part of the camera that allows for additional power to be stored. After converting from solar energy to direct current (DC) with the solar panel, an inverter in the panel will convert it to usable alternating current (AC). This conversion allows the energy to be stored in batteries as a backup when the active sunlight disappears.
The battery size is important because you need to ensure your wireless, cordless setup has power if you want it to work throughout the night. Depending on how much sunlight you see on a daily basis, how long the days are, and whether you need 24/7 surveillance, you can decide what size battery will work best for you. Obviously, the more battery capacity the better, so aim for 4,000mAh as a minimum to ensure you'll have power when you need it. This should allow a full battery to last a few days without extra sunlight.
Method of Video Storage
Do you want to monitor your cameras live, or just review footage afterwards? Depending on your intended use of the solar powered security camera, you'll want to choose storage method for your footage.
For those who have Wi-Fi setup and want live video feeds, cloud storage is likely the solution for you. With the power of the cloud, your footage is stored online and can be accessed from any device, anywhere, and with nearly unlimited storage (depending on your data subscription). These devices also often connect to smartphones and smart home systems for advanced functionality. Note that these require a subscription for data storage on the cloud, so keep that expense in mind.
If you're using the camera for surveillance rather than a front door camera, SD card storage may work for you. While you'll need to physically access the SD card for reviewing footage, you'll also avoid subscription fees. Unfortunately, you'll be limited by the size of your SD card in terms of stored footage, so you may need to clear it out every so often.
Availability of WiFi
Curious who's at your front door? Is it a solicitor, a package delivery, or a neighbor stopping by to say hi? If you have Wi-Fi capability, you'll be able to tell with an internet-connected smart device.
As many homes have wireless internet available throughout & surrounding the property, you'll likely have Wi-Fi available that allows you to livestream the feed from your solar powered outdoor camera directly to your PC, tablet, or smartphone. Simply get the app, download the program, or login to the manufacturer's portal on your device to keep an eye on things – and even interact with 2-way audio that is available on certain models.
If you don't have Wi-Fi available, you can still go with a SD card camera (though you won't be able to live stream video). There are also cellular security cameras that operate on the same mobile networks your phone does, which lets you get internet access without needing Wi-Fi connectivity. These are often more expensive, but can be worth it for surveillance further from home.
The best solar powered security camera reviews
Reolink Argus 2 and Solar Panel
Important Specifications
Resolution: 1080p HD
Recording: Yes – SD Card & Cloud Storage
Network Connectivity: 2.4G Wireless Compatible
Viewing Angle: 130°
Waterproof Rating: IP65 Weatherproof
Motion Detection: Yes – 33 ft. range
Night Vision: Yes – 33 ft. range
Battery (mAh): 5200mAh
Key Features
2-Way Audio Included
Instant Alerts
Record to SD Card and Cloud Storage
Night Vision capable with motion detection
This security camera from Reolink is a great solar-powered option for your home security camera. It offers a good combination of features & value from a trusted security brand that stands behind their product with a 100% money back guarantee.
Being completely solar-powered means that the camera does not need to be plugged in or charged at any point and is completely self-reliant. The price point you'll find this product at could be considered to be in the higher tier for home security cameras, but when compared with other cameras in the solar-powered line it is right on point and even slightly lower than some others you will come across.
The video records in a stunning and clear 1080p high definition image that makes it easy for you to see what's going on – day or night. When you combine this with the 130° viewing angle and night vision with a 33-foot radius you'll be able to see just about everything you could possibly want to see. This is ideal for back doors, front doors, and driveways.
Thanks to the more advanced features that are included with this device, you won't need to leave the couch or even be home to check who's at the door or why the garbage can fell down. The 2-way audio allows you to both hear anyone outside your house and also communicate with them from potentially thousands of miles away. Talk about a traveler's best friend!
Additionally, the recordings will store up to 64GB at a time via an SD card (not included) and will also backup the footage to the cloud storage once recording is triggered remotely or through a sensor. This will be accessible from anywhere online that you are able to connect to the cloud servers.
With the help of the free Reolink software this will allow you and up to 9 other family members to connect and view the live feed of the camera or playback as you wish. The app can be accessed through the app store on iOS, Android, or downloaded manually on any PC or laptop. It is free of charge, so you don't need to worry about any extra fees.
Viewzone Outdoor Solar Powered Security Camera
Important Specifications
Resolution: 960p HD
Recording: Yes – SD Card & Cloud Storage
Network Connectivity: 2.4G Wireless Compatible
Viewing Angle: 100°
Waterproof Rating: IP65 Weatherproof
Motion Detection: Yes – 16 ft. range
Night Vision: Yes – 16 ft. range
Battery (mAh): 6400mAh
Key Features
Easy Wireless & App Connectivity
Rotatable Solar Panel
Motion Detection Alarm
Large Battery
This wireless solar-powered camera from Viewzone is a solid budget option for a buyer who is newer to solar-powered technology but doesn't want to break the bank until they know it will work for them. This device comes with almost all of the features that a more expensive model will have, but has them slightly dialed down so it won't be best-in-class for all of the features but it will include just about every feature you'd ask for.
The video comes in a clear high definition video with a resolution of 960p to give you the ability to see just about everything coming onto your property. This option features a closer range motion detection and night vision powered by infrared LEDs to illuminate even unlit porches and pieces of land. This camera is powered by a 6400mAh rechargeable battery that will be self-sustaining and thanks to the rotatable solar panel, you can ensure the large battery is always charged so that your protection last throughout the night.
One of the most convenient features that comes with using this device is the smart security system that is influenced by the motion detection. You are able to set between three security settings and the motion detection will alert any connected mobile devices of any motion outside the home if the motion threshold is hit. That means you won't get alerted every time a squirrel runs by, but if a raccoon knocks your cans over it'll alert you.
Being IP65 waterproof, this device will be resistant to projected waters but not able to be submerged in water. This means that your device should survive any weather conditions such as rain or heavy winds. This is an essential feature for a security camera to have because it needs to withstand any conditions especially when the owner may not be nearby to remedy any problems.
All in all, this is a good budget option that provides the essentials, but if you are seeking top of the line features such as 1080p recording, 64GB storage, app connectivity for many people, or need to survey a large area then you may want to opt for a more expensive and luxurious option.
Arlo Pro 2 Wireless Camera and Solar Panel
Important Specifications
Resolution: 1080p HD
Recording: Yes – Continuous Recording to SD Card or Cloud Storage
Network Connectivity: 2.4G Wireless Compatible
Viewing Angle: 160°
Waterproof Rating: IP65 Weatherproof
Motion Detection: Yes – 25 ft. range
Night Vision: Yes – 25 ft. range
Battery (mAh): 2440mAh
Key Features
Wireless or Wall-Powered
Siren Included
Store Up to 7 Days on Cloud Storage
Amazon Alexa and Echo Compatible
The Arlo Pro 2 is by far the most elegant and luxurious of all the home security cameras looked at today. With this product you'll receive two cameras (with options for up to 5), the home system to navigate all of them, and a solar panel capable of fully charging and maintaining the system and its devices. However, you will always have the option to keep the device plugged in and ensure you're not relying on sunlight to power your system – which may be useful due to the smaller battery size.
The Smart Siren is an alarm feature that is built-in that can save you or your loved ones during an emergency. When activated it will sound off an over 100 decibel siren that is sure to scare off any invaders. This can be activated remotely if you are aware of something about to happen, or you can configure it to go off whenever an abnormal amount of motion or sound is detected outside your home. With noise being one of the best burglary deterrents, this is an exceptional feature.
With the 3-Second Lookback feature you will be able to take a look at a specific event and go back a few seconds. This will give you the ability to look back at something you may have missed when streaming live. This feature is only available when used indoors and plugged in.
Motion detection can be very unreliable because certain things can set off the detection even when not intended. With the app, you'll be able to set certain hot or cold zones so you can set certain areas where any motion will not be alerted, or areas where catching motion is more important like your front or back door.
In conclusion, this is much more expensive than many other home security options, but it has many unique features that will set it apart from the rest of the competition. If you want the best and don't mind paying for it, this will be a great option for you.
NexTrend Outdoor Solar Powered Security Camera
Important Specifications
Resolution: 1080p HD
Recording: Yes – SD Card & Cloud Storage
Network Connectivity: 2.4G Wireless Compatible
Viewing Angle: 130°
Waterproof Rating: IP65 Weatherproof
Motion Detection: Yes – 32 ft. range
Night Vision: Yes – 32 ft. range
Battery (mAh): 6600mAh
Key Features
Full 1920 x 1080 Resolution
Real-Time Monitoring Over Network
Long Range Motion Detection & Night Vision
100% Self-Sustaining
Built with the solar panel integrated into the top of the camera, this compact bullet camera from NexTrend is a versatile and stylish option towards the upper-middle price range. With simple setup, a 100% wire-free design, and 1-year warranty, it's a worthwhile option for all levels of techie. It includes many of the most requested features without breaking the bank, offering a solid value for your money.
Boasting a full 1080p resolution camera at 25 frames per second, this option will ensure you're able to pick up on just about everything that it can see – even in larger yards at longer distances. The 32-ft motion sensing will alert you of anything that doesn't belong, and the 32 ft. night vision capability that is powered by high-intensity infrared lights further adds to the visibility it offers so that you're protected at all times – day or night.
When the motion sensor is triggered, the solar security camera can alert you through the provided app so that you can monitor it in real time & communicate with the person on the other side with the 2-way audio. If you're in bed, simply use the wakeup feature to trigger a recording so that if something happens, you'll have a copy of it on the cloud (separate fee) or the 32 GB SD card it supports for physical storage.
The solar panel can charge at about 200mAh per hour in great conditions, and the 6600mAh battery ensures that you always have enough power to keep your eyes on the prize. An automatic shutoff helps ensure that the battery doesn't overcharge to protect your camera and maintain the life of the battery for longer.
With this option's high resolution, large battery, and IP66 weatherproofing, you'll never have to worry about missing anything. Simply set it up, connect it to your network, and enjoy the reliable uptime to give you peace of mind.
Soliom Outdoor Solar Powered Security Camera
Important Specifications
Resolution: 1080p HD
Recording: Yes – SD Card & Cloud Storage
Network Connectivity: 2.4G Wireless Compatible
Viewing Angle: 160°
Waterproof Rating: IP66 Weatherproof
Motion Detection: Yes – 33 ft. range
Night Vision: Yes – 33 ft. range
Battery (mAh): 4000mAh
Key Features
Very Wide Field of View
Motion Detector with 0.7s Response Time
Adjustable Motion Sensor Sensitivity
The Bird S60 from Soliom is given its name because of the wing-like solar panels that power it, and the ability that it has to see long distances with motion detection & night vision up to 32 feet.
The device comes with a 4000mAh battery that charges at an average of 100mAh per hour, meaning it requires about 1-3 hours of direct sunlight to last through a day. If you have more, the battery will be charged so that it can be used when needed at night or during times of lesser sunshine.
This security camera comes with one of the best and fastest acting motion detectors you will find. It has a two-way motion detection feature that will help reduce any false alarms or things that do not need to be picked up with adjustable motion sensitivity. With an amazing response time of 0.7 seconds, you will receive on your mobile device an alert that motion was detected, and a short clip of the exact motion that the camera detected.
With this device you will also find advanced day and night modes. Using 5 layers of glass lenses allows the clearest of pictures and protection with a LED light that is used to enhance the night-vision. The device will automatically switch between using the day and night modes to give you the best picture at any time of the day or night.
The weather rating on this device is rated at IP66, this means it is completely safe in your yard from any regular weather. This will protect against rains and winds, but if it falls in the pool or is submerged in flooding it may struggle to stay working.
In the end, this is a quality device that is capable of doing everything it should be but the main selling point for this is the amazing 160° FOV range. This camera will be able to reach and see places that many other devices cannot.
The biggest negative of this device is that the solar panels do not move independently of the camera, so if the sun isn't facing the direction of your camera, it may not charge efficiently.
FAQ
Will My Solar Security Camera Still Charge When It's Cloudy?
Perhaps the most common concern about solar security cameras is whether or not they'll keep working after a few days of storms or clouds. While it is true that bright, direct sunlight is ideal for charging your battery through the solar panels, solar power can actually penetrate cloud cover. It will lead to a reduced charging rate in many cases, but in the same way that you can get sunburn on a cloudy day if it is hot enough, your panel will still provide energy.
The exception to this is nighttime when there is no sun in the sky to provide solar energy. Unfortunately, the moon can't offer the same energy as the sun – but with a large battery you'll have plenty of juice to last you through the night after a full day of charging.
Can I Add More Cameras to My System?
Absolutely! Many homes, businesses, and properties are too large for just a single camera to cover entirely. This is why many manufacturers have apps that can be used to aggregate all your camera feeds into a single dashboard. As long as your security camera supports live streaming video, you can use multiple cameras at once by connecting to your network or home device.
However, if you use multiple brands or models of camera, you may need separate apps to see each type individually. The exception would be Alexa or Google Home-compatible cameras that can be controlled by the smart device.
How Do I Install and Mount The Solar Security Camera?
Ease of use is one of the best features of solar powered security cameras, so setup is quite simple. Most models will come with a base plate containing drill holes and screws that allow you to simply drill into the base to secure them. You can also elect to use a strong adhesive if you'd prefer not to drill holes into your location, but beware that the adhesive may not be totally weatherproof.
Once you've mounted the camera, position it to face the target, download any included apps, connect it to the internet, and you're good to go!
Are There Laws I Should Be Aware Of?
Yes, read our guide on home CCTV camera laws here.